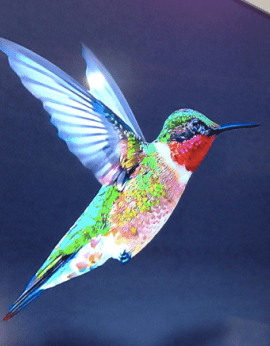 Google loves to be cute with its product names, even going so far as to name its new phone operating system Kit Kat (with approval from Nestle of course). Cute names aside, the latest change from the world's most popular search engine is worth taking note of as a business owner.
More Than a Cute Name
The Hummingbird algorithm debuted in September of this year, on the eve of Google's 15th birthday. Different than its Panda and Penguin updates, which were only edits to the existing algorithm, Hummingbird is an entirely new algorithm. According to Google they named it Hummingbird because this new algorithm is "precise and fast". I guess the old algorithm updates where slow, and black & white?
Anyway, for consumers it means better search results for more precise questions. Described as semantic search within our industry, it essentially means Google is striving to become better at understanding a user's entire search question.
An Example of Hummingbird in Action
As an example, before the Hummingbird release, someone searching Google for "I need a plumber to fix my leaky Moen kitchen faucet" would receive search results from Moen Company, random Plumbers and DIY websites about fixing leaky faucets. Now, the same search would result in more results from local plumber's websites who specialize in Moen kitchen faucet repair. The difference is Google is now paying attention to the question as a whole, not just the words within the question, thereby giving the consumer a much better set of answers to their question.
Why is This Important to Me, a Local Business?
What does this mean to the plumber though? It means a change in search engine marketing tactics, specifically search engine optimization (SEO). Gone are the days when he could have a good chance of appearing on page one of Google for the, "I need a plumber to fix my leaky Moen kitchen faucet" search because he had a web page about fixing leaks. Now he must take the time to create a web page about how he is an expert at fixing Moen kitchen faucets in order to have the best odds of appearing on page one.
The message here – businesses that take the time to write content that addresses common questions from consumers, will find themselves naturally rising to the top of Google's search results pages. Time to get writing people!
Or Just Pay Google
Alternatively, you could just pay Google to be #1 for this search with a pay-per-click (PPC) campaign…which some conspiracy minded people claim is part of the reason Google made this algorithm change in the first place (more money in their pocket!). That's a whole other blog post.